Floodplain Flows And Licensing
Key considerations
The requirement to establish volumetric licences for floodplain harvesting does not create new water.
This is legitimate historical access being bought into the current regulatory framework by converting a descriptive take licensed under NSW Water Act 1912 into a volumetric license consistent with the NSW Water Management Act 2000.
With all water available to irrigators limited, future licensing of floodplain flows will provide tools to better measure and monitor take to ensure overall usage remains within limits, as set out in water sharing plans and the Basin Plan.
While the issuing of licences for historical forms of take is not without its challenges, as irrigators will be subjected to further regulation and costs, it will include the following benefits:
Licensing will protect the environment and users from further growth, providing certainty to communities who rely on floodplain flows
Restricting future growth will maintain and improve floodplain flows downstream, including any environmental assets.
Regulation of access will be via a new three-fold compliance approach rather than the two options available today.
Communities should have confidence that not only water volumes but floodplain works will be monitored, with all farms on the floodplain (not only irrigation farms) will have their works inspected to ensure they are compliant to current regulations.
We have supported implementation and are seeking finalisation as part of water resource planning because of these outcomes but also to better align the security of this water right with other entitlements already within the current regulatory framework as a means to maintain the future of the industry and economic activity in our region.
What is floodplain or overland flow
Floodplain or overland flow occurs water spills out from rivers or stream and flows across a landscape, often regarded as the floodplain where this can typically occur. As the name suggests, a flood event of some scale must occur to take water off the floodplain. The Gwydir Valley is a large inland delta that expands in a westerly direction from the Newell Highway, with most flows from the Gwydir River historically flowing towards the Gwydir Wetlands. The NSW Government declared the Gwydir Floodplain in the Floodplain Management Plan for the Gwydir Floodplain in 2016 which is presented below.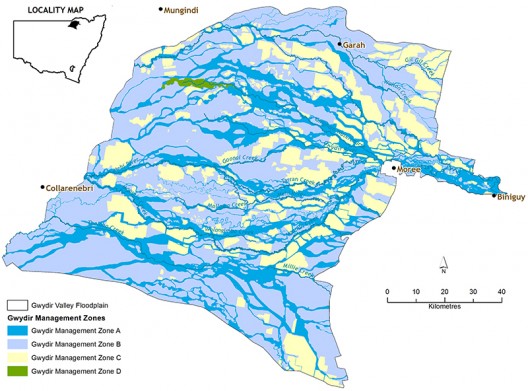 Why is the NSW Government planning to issue licenses
Irrigators in our region have been legitimately accessing overbank flows since irrigation development, when they constructed flood protection works for fields and property and then intercepted some of this excluded water. This form of access is not new. Any entitlement and subsequent allocations provided through the implementation of licenses are already estimated as historical take, the licensing process is better estimating this take .
The NSW Government is required by national agreement to bring this legitimate form of access, originally described and licensed under the NSW Water Act 1912, into the current licensing framework of the NSW Water Management Act 2000. Undertaking this ensures consistency with national reform programs like the National Water Initiative signed in 2004 (see A History of Water Reform) and the Murray Darling Basin Plan 2012 (see Key Legislation) as well as protect outcomes under the Basin Plan and provide NSW better tools to regulate, share and account for water take in the valley. 
The Commonwealth Government provided funding to expedite the NSW and Queensland governments obligations. The NSW government called the project, the Healthy Floodplains program and they have provided this current factsheet on the implementation of the project.
The NSW Government is also responsible for managing all water take within limits, therefore they must ensure that there is not any future growth in any form of access including floodplain. Transitioning this access into the current framework will provide better tools to help NSW achieve this, including providing users security of access through restricting industry access to a historical level of take to industry, monitoring that and restricting future growth, which will maintain or improve floodplain flows downstream, including to any environmental assets.
Growth will be monitored and limited via a three-fold compliance approach rather than the two tools available today, including:
The measurement and reporting of take by individuals (new);
The monitoring of valley-wide take within valley-limits (currently estimated but to be actual volumes); and
The compliance of floodplain structures to standardised floodplain management plans.
How is the NSW Government determining and issuing licenses
This form of access is not new. Determination of licenses will be based on updated valley hydrology model, re-designed and re-built to better represent all water in regions rather than the previous focus on in-river flows.
Licenses and shares are determined with two key inputs:
Water volumes are determined as the long-term average of water take that could be accessed through infrastructure in-place in 2000 when NSW Water Sharing Plans were initiated. 
An irrigators share of that licence is determined from the long-term average of water take from infrastructure that existed in 2008, when the NSW Government embargoed floodplain work development.
Water made available to irrigators must be within valley-wide regulatory limits imposed firstly by the Murray Darling Basin Ministerial Cap in 1994, the relevant NSW Water Sharing Plan - Plan Limit (for Gwydir set in 2004 and updated in 2016) and the Sustainable Diversion Limit in the Murray Darling Basin Plan (referenced at 2009 and legislated in 2012). The historical take has already been included throughout these process, although the improvement in model estimates may result in improved estimates of take across these key reform dates. More information is available at A History of Water Reform.

How will it be monitored?
Currently the management of floodplain take is via the floodplain works approval process and therefore, focus on the structures within the floodplain. Upon implementation of the healthy floodplains project the NSW Government intends to continue to monitor floodplain structures, via individual works infrastructure plans whilst also monitoring the individual and valley take volumetrically.

The NSW Government recently closed their consultation on the draft monitoring and auditing strategy.
Because floodplain harvesting is a unique form of take; it is site specific in terms of capacity (infrastructure) and opportunity (flood events), highly episodic and therefore variable on temporal and spatial scales it will require a unique monitoring solution. Not all floodplain take can be measured via traditional devices but must be measured.
With that in mind, we support a robust strategy that is achievable for both government and water users and benefits everyone, that is repeatable, auditable and can be verified, cost-effective and fit-for-purpose.  We support the implementation of a risk-based strategy, that aligns uncertainty and risk in the context of the entire water management framework to the desired outcome, of measuring floodplain take volumetrically with confidence. 
We recommend:
The installation of calibrated monitoring devices on storages to be used as the source of truth for FPH take;
The calculation of farm water balances to determine FPH take from other known water sources;
The establishment of reporting periods to collect data and report take shortly after an event; and
The continued investigation into new technologies to assist monitoring and compliance activities.
The measurement and accounting of any water take, should also be subsequently supported by a strong and proactive compliance framework.  We support the implementation of a three-fold compliance strategy as part of monitoring floodplain take.
See our joint submission, with other northern irrigator groups on the NSW Draft Monitoring and Audit Strategy for Floodplain Harvesting here.
Inaccuracies around possible take
Recent media and social media commentary has presented many claims regarding floodplain harvesting suggesting volumes for this year, potentially volumes in a flood or over the long-term. In the absence of substantiated facts these claims are opinion and will remain that until the NSW Healthy Floodplains project is finalised and volumetric monitoring begins.
The NSW Healthy Floodplains project is updating processes and assumptions within the valley-wide models to ensure these reflect historical and current conditions and represent take more accurately.  As a result of these improvements, the long-term average estimates for all forms of take including floodplain harvesting will be updated. To suggest a volume without this project being finalised is speculative and may prejudice the Independent Peer Review currently underway.
We have collated a list of claims in specific articles and responses to these claims in the following document.
There is also this statement regarding recent flooding in the Gwydir and Namoi Valleys here.