Current Water Availability
New South Wales Department of Planning and Environment together with WaterNSW (for supplementary flows) are responsible for announcements regarding water availability within plan areas.
Annual starting allocations are determined on the 1 July each year and, depending on the entitlement type, additional available water determinations may be made depending on water resources available for sharing throughout the water year, as with General Security (generally in first week of the month) or at the beginning of an event for supplementary water.

Current allocations and their date of announcement are provided below and are presented as a chart this includes water available and usage to date.
For a complete record of water allocation statements, visit the Department of Industry website here.
2022-23 Water Year
Starting allocations were made on 1 July 2022.
High Security water licences received a 100% starting allocation.
General Security water licences were already at their maximum limit with carry over water, therefore no new allocations were made.
Supplementary licences received a 21% starting allocation but from 15 August 2022, they were increased to 100%. This is because of growth in use strategies were addressed with the issuing of replacement floodplain harvesting licences.
Regulated floodplain harvesting licences received a 100% allocation on the 15 August 2022.
Unregulated licences received a 100% starting allocation. On 15 August 2022 this included a 100% allocation for unregulated floodplain harvesting licences.
Groundwater licences received a 100% starting allocation.
The starting allocations and carryover volumes are the highest since 2012 even with the supplementary reductions. .
2021-22 Water Year
The below chart provides a graphic of the available water in accounts for each of the water entitlements and categories and outlines, with text the water use so far this season. This information is provided via resource assessment updates for the regulated system and monitoring of groundwater usage. This information is available in the following tables.
At the start of the current water year (1 July 2021) there was 214,310 megalitres of general security water allocation carried over for irrigation and 109,020 megalitres for environmental water managers (NSW and CEWO held, and Environmental Contingency Allowance).
Full allocations were announced for critical water users including high security users and groundwater, were made available. Groundwater users have limited carry over allocations with an estimated 15,900 megalitres remaining.
Supplementary allocations were reduced by the Minister to 50%.





Regulated System - High Security and General Security
Current water availability in Copeton Dam is highlighted on our sidebar (on the right) but is also broken down by entitlement type below. High security as well as town water supplies and stock and domestic users, as well as the losses to deliver this water are included in the 'essential supplies' section.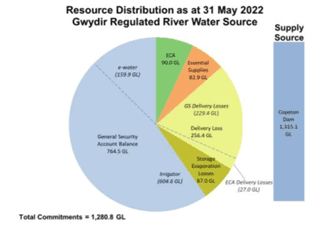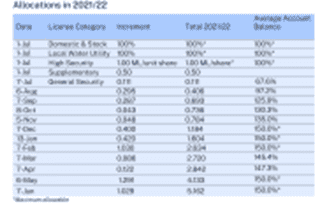 A breakdown of General security allocations for the current water year are detailed below.


A detailed breakdown of general security monthly allocations, usage and remaining general security balances are provided in the following attachment.


Regulated system - Supplementary access.
Supplementary flows are triggered when more than 500ML/day of unregulated flows are measured below Copeton Dam. The first 500 megalitres is for minimum requirements to meet basic and critical water needs and any flows, above 500 are shared equally between the environment and water users. Each supplementary event is calculated and announced via WaterNSW, who aim to share the opportunity between water users around the regulated catchment.
Water users for the first time since the Water Sharing Plan received a less than 100% allocation to supplementary allocations this water year. This was due to the Minister's decision to consider the updated modelling results for long-term water use in the Gwydir Valley, which indicated growth in use above legal limits. The current rules provide for the Minister to reduced allocations to supplementary water as the first option regardless of the reason for the increased extractions which are driven by the NSW Government's failure to manage floodplain harvesting extractions - a separate form of water.
There is therefore 90,000 megalitres available to supplementary water user this year. Current river flows have meant 100% of this water is available to those interested.
The current supplementary roster which is used to guide where supplementary events may be directed to, given the opportunity arises and the river operators have the ability to direct the flow.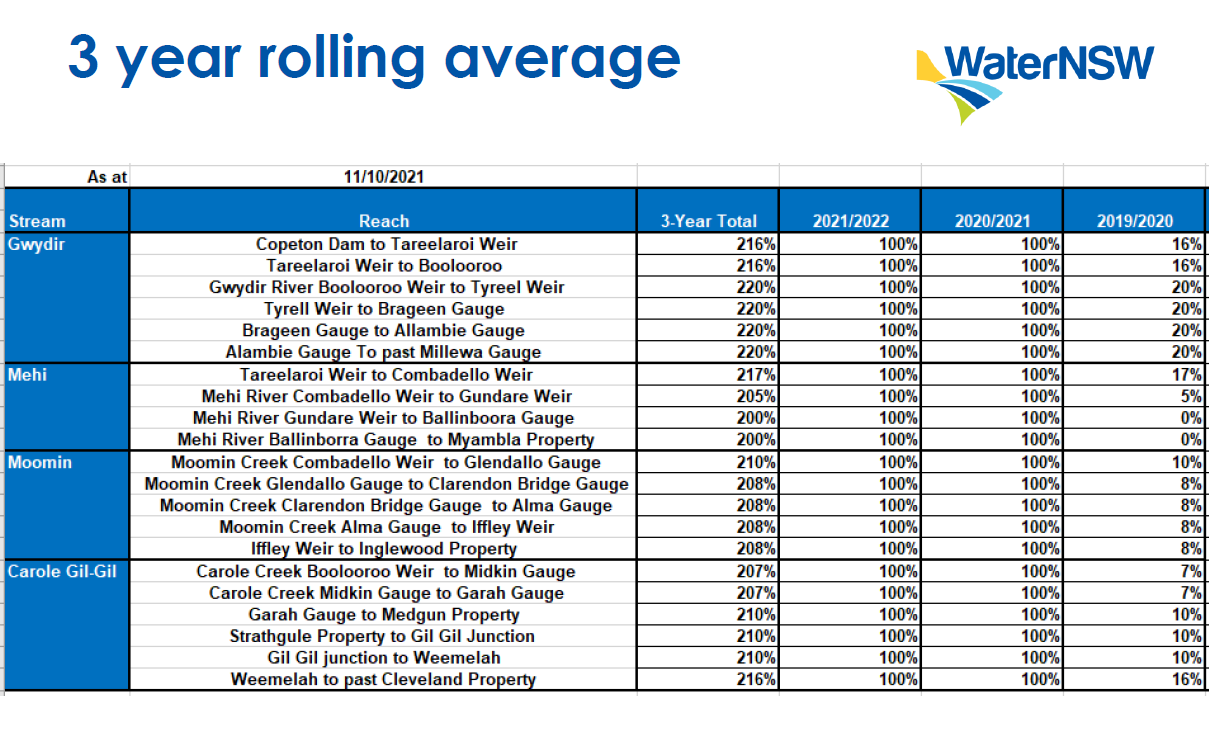 Unregulated system
As with supplementary access, most unregulated creeks and streams received some flows in February and March 2020. Full allocations are available if access conditions are achieved.
Any restrictions in place are available via Department of Industry website.
For summary of past years - see Historical Water Availability.