Water Management Framework
Australia leads the way in water management globally, and as such is well acknowledged as having achieved best practice outcomes. New South Wales has lead this process, often to the detriment of its irrigators, who were operating in improved management frameworks well before other water users both within and outside of NSW.

Irrigators' in our region have progressively endured a significant reduction in water take.
This has been the result of river regulation, but most substantially due to 30-years of reform which has resulted in dramatic increases in regulation surrounding water resources in NSW and within the Murray Darling Basin, of which the Gwydir Valley is incorporated. Over time the reform agenda has resulted in improved estimates of water availabilty, the establishment of rules and limits in accessing water, as well as a gradual decline in water availablity for the irrigation industry in favour of environmental purposes. For more information on the water reform process, see our page A History of Water Reform.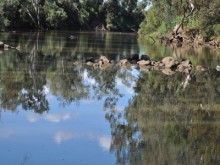 The NSW Government paved the way for many state governments in water management through the establishment of the Water Management Act 2000 (NSW). This act has been amended over time to remain consistent with requirements under the Federal Water Act 2007 (Cth) and its key reform, the Basin Plan 2012 (Cth). For more detailed information see our page Key Legislation.

A core outcome of the Water Management Act 2000 (NSW) was the development of Water Sharing Plans, of which all water within the Gwydir Valley is now managed. These plans provide the framework by which all users; irrigators, stock and domestic, town water supply, industrial or environmental users, can access in their share of water. It outlines the rules and conditions associated with their licences, with an aim to comprehensively manage access within long-term limits, facilitate trade and maintain socio-economic and environmental outcomes. For more information see our page Water Sharing Plans.

Water sharing plans in the Murray Darling Basin regions are currently being transitioned to Water Resource Plans and are required to be consistent with the Basin Plan 2012 (Cth). Information on what the Basin Plan means for the Gwydir Valley is provided on our page the Murray Darling Basin Plan.

The construction of Copeton Dam and the regulation of the Gwydir River has facilitated environmental water, in one form or another, within the Gwydir Valley for decades. Reforms of the Water Sharing Plan and, more recently, the Basin Plan revolve around local commitments to managing water for the environment. The local environmental water portfolio is large and varied, and environmental outcomes and improvements highly visible. Yet reform has come at a cost to our communities. For more information please see our page Environmental Water and Management.

A key aspect of the NSW water management framework is the establishment of impactor or user-pays pricing structure for the management, maintenance and delivery of water. Water prices are set by the NSW Independent Pricing and Regulatory Tribunal (IPART) for Water Administration Ministerial Corporation charges, as well as Rural Bulk Water Supply charges. For more information see our page Water Pricing included current prices.

Water management functions in NSW are largely paid for by NSW water users through Water Administration Ministerial Corporation charges. Hence, irrigators see the water management and compliance framework as a self-insurance system for the security of the whole industry. We support an effective, transparent and functioning system, the future of the industry relies on it.