Water Take Measurement
Our position
The GVIA are of the understanding that the standard of measurement in the Gwydir Valley is high, with active irrigators adopting the most accurate technology commercially available[1]. Irrigators adopt high accuracy technology at their own cost, due to the high value of their asset and because it meets their requirements to know exactly how much water they have at any point in time.  Irrigators in our region, couldn't be the industry leaders in water-use efficiency, if they didn't have this standard of information.
We acknowledge that aspects of the NSW Government's draft metering framework will be challenging, nonetheless we fully support the key objectives, including:
That the take of water can be accurately and reliably determined;
That meters used to measure water take are auditable, verifiable and accurate;
That data from meters can be easily communicated to relevant authorities;
That mandatory requirements and resources are targeted to high risk water users (i.e. those that have a greater capacity to take water in high risk water sources);
That the benefits of water measurement outweigh the costs; and
That the framework is simple to understand, comply with, administer and enforce.
These six objectives, in to ensuring that improved measurement enables better resource management, should guide the NSW Government's future approach in developing an efficient, equitable and enduring methodology that will be flexible enough to meet the required objectives but cognisant of the need to establish thresholds for implementation, provide adequate transition allowances and overcome barriers to implementation.  After all, it is the NSW Government's responsibility to re-build the community's and water-users confidence that everyone is receiving their fair share, no more and no less.
We therefore believe that all water take must be measured with the majority of take metered through highly accurate devices[2].  All measurement must be auditable, verifiable and within accuracy requirements, but that accuracy and measurement methodology may vary depending on the establishment of state-wide but valley specific thresholds and or the category of water take.  The NSW Government must be pragmatic in accepting that a single solution may not effectively address our overall objective of re-building the community's and water-users confidence that everyone is receiving their fair share, no more and no less of our precious resource.
The challenge in pursuing a single standard will also be exacerbated when considering other forms of take and usage, as with environmental water delivery, irrigation corporations and capturing of overland flow (Floodplain Harvesting).  Where measurement objectives in terms of auditability, verification and accuracy limits are still required but that traditional metering options will not be applicable.  
[1] The GVIA surveyed members regarding their meter fleet in early 2018 with 92% of respondents using a meter to measure their water take with 77% of all water take measured via a current model electromagnetic meter.
[2] Independently verified of within +/-5% in the field.
Proposed NSW Water Take Measurement
The NSW Government in June 2018 have finalised aspects of the Water Take Measurement policy as contained within a draft NSW Metering Framework. This policy was developed following the Water Reform Action Plan consultation in March and April 2018.
The draft framework outlines requirements for water user to meet specified standards for water take where it can be measured via a meter.
All water take must be measured, with water supply works required to be metered if:
pumps are 100 mm diameter or larger for surface water take; and
pumps are 200 mm diameter or larger for groundwater take.
The draft framework also establishes standard requirements for meters with new meters to be pattern approved and meet the Australian Standard AS4747 and existing meters must be verified to meet accuracy limits of +/-5%. All meters will be required to have telemetry and be anti-tamper proof.
The NSW Government has proposed transitional period for implementation until 2023.
A factsheet on the draft framework is available here or for more information see the NSW Department of Industry - Water website.
New draft regulations have been prepared and are available here. These are open for consultation until 30th September 2018.
We have prepared the following flow-charts based on information within the draft regulations, to help identify what you need to do and by when. These are specific for the Gwydir Valley.
These outline the following requirements for surface water users (regulated, unregulated and licenced stock and domestic) in the Gwydir Valley: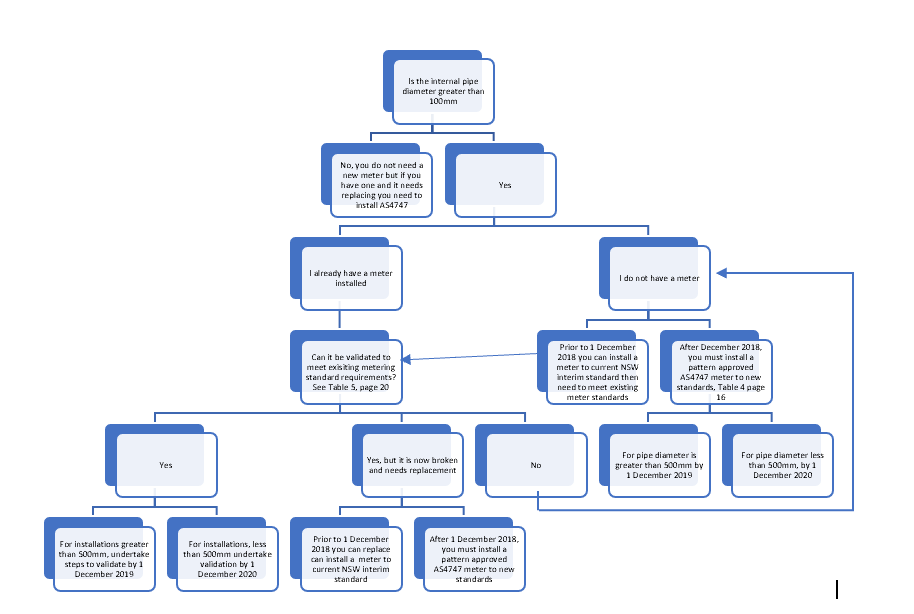 For all groundwater in the Gwydir Valley. NOTE: all groundwater users in the Lower Gwydir groundwater WSP will be required to have a meter, regardless if they have one currently as they are expected to have an extraction measurement device.  Other groundwater users are only required to have a meter if they are above the threshold.