Water Take Measurement
Our position
The GVIA are of the understanding that the standard of measurement in the Gwydir Valley is high, with active irrigators adopting the most accurate technology commercially available[1]. Irrigators adopt high accuracy technology at their own cost, due to the high value of their asset and because it meets their requirements to know exactly how much water they have at any point in time.  Irrigators in our region, couldn't be the industry leaders in water-use efficiency, if they didn't have this standard of information.
We acknowledge that aspects of the NSW Government's new metering framework will be challenging and ambitious, nonetheless we fully support the key objectives, including:
That the take of water can be accurately and reliably determined;
That meters used to measure water take are auditable, verifiable and accurate;
That data from meters can be easily communicated to relevant authorities;
That mandatory requirements and resources are targeted to high risk water users (i.e. those that have a greater capacity to take water in high risk water sources);
That the benefits of water measurement outweigh the costs; and
That the framework is simple to understand, comply with, administer and enforce.
We therefore believe that all water take must be measured with the majority of take metered through highly accurate devices[2].  All measurement must be auditable, verifiable and within accuracy requirements, but that accuracy and measurement methodology may vary depending on the establishment of state-wide but valley specific thresholds and or the category of water take.  The NSW Government must be pragmatic in accepting that a single solution may not effectively address our overall objective of re-building the community's and water-users confidence that everyone is receiving their fair share, no more and no less of our precious resource.
The challenge in pursuing a single standard will also be exacerbated when considering other forms of take and usage, as with environmental water delivery, irrigation corporations and capturing of overland flow (Floodplain Harvesting).  Where measurement objectives in terms of auditability, verification and accuracy limits are still required but that traditional metering options will not be applicable.  
[1] The GVIA surveyed members regarding their meter fleet in early 2018 with 92% of respondents using a meter to measure their water take with 77% of all water take measured via a current model electromagnetic meter.
[2] Independently verified of within +/-5% in the field.
Current NSW Rules
The NSW Government enacted the NSW Water Management (General) Regulation 2018 and subsequent amendments. This regulation clearly outlines the requirements for non-urban water metering in NSW.
The NSW Water Reform Taskforce has put together the following tool, to help determine your approach. It is available here with other factsheets. 'What water users need to know' factsheet is a handy summary of what you need to know.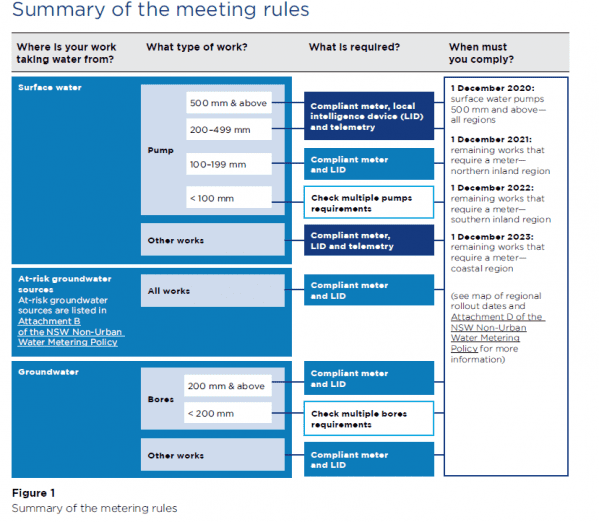 Barriers:
As implementation progress, we encountered more barriers and challenges in meeting the required rules. Many of these are outside of the control of the water users.
To capture and address these, we implemented site-by-site monitoring for members via an implementation schedule. We work closely with our local duly qualified persons to also identify issues and highlight and try and address those with government and or the market.
This is a summary of these ongoing concerns, developed in conjunction with other valleys and duly qualified persons.
Summary of Barriers to Metering Implementation April 2021.


Timeline
With recent amendments, the start dates for meter and telemetry requirements are:
1 December 2020 – surface water pumps 500 mm and above - All regions (inc Gwydir)
1 December 2021 – remaining works that require a meter - Northern Inland regions (inc Gwydir)
1 December 2022 – remaining works that require a meter - Southern Inland regions (not Gwydir)
1 December 2023 – remaining works that require a meter – Coastal regions (not Gwydir)
For the first stage roll out there are 426 sites in the Gwydir out of a total of 1,257 sites in NSW.
For the second stage roll out there are nearly 7,500 sites that would need to be assessed and validated. The Gwydir numbers are not known at this stage.
Meter requirements
From 1 April 2019, any meter requiring replacement or any new installation, must be patterned approved according to the AS4747. All meters installed after 1 April 2019 need to be pattern-approved.
The Murray–Darling Basin Authority (MDBA) has published an updated list of pattern approved non-urban water meters updated in April 2020.
While the number of patterned approved meters has increased there remains limited choice of meters within certain categories. We also note that provisionally approved meters can be installed provided they are installed according to their approval conditions and were installed while they remained provisionally approved.
We recognise that for some sites in the Gwydir Valley there are no pattern-approved meters and are working with Government and industry groups to provide alternative arrangements to ensure accuracy requirements.
There are third-party validation processes that must be followed to test the insitu accuracy of existing non-pattern approved meters. Duly qualified persons can carry out these tests and certify sites according to measurement guidelines.
Telemetry
Surface water pumps 500mm and above need to have telemetry installed from 1 December 2020. All other metered surface water works (except pumps less than 200 mm) need to have telemetry installed by the regional roll-out date.
Following a competitive procurement process, the department engaged eagle.io to develop a data acquisition service (DAS) to collect water data from water users with telemetry.
A number of telemetry devices are currently being tested for compatibility with the functional and security requirements of the DAS. A list of compatible devices are available here.
The DAS is now live. You may increase the frequency of data uploads to the DAS at your own expense. This is important for those that may want more regular data updates than the minimum 24 hours.
Data collected by the DAS will assist the Natural Resources Access Regulator, WaterNSW and the Department to undertake compliance and enforcement, billing and other water management activities.
Tamper Evident Seals
Under the metering rules, metering equipment must have tamper evident seals to show whether the equipment has been interfered with.
Metering equipment includes the meter itself plus any ancillary wiring, pipework, telemetry equipment or apparatus and any supporting structure.
Only duly qualified persons, NRAR officers or WaterNSW staff may install or break a tamper evident seal. Replacement seals must be purchased from Irrigation Australia Limited
Maintenance
The Maintenance Specifications 2019 set out the maintenance that needs to be carried out in relation to metering equipment, the frequency of maintenance and whether the maintenance needs to be carried out by a duly qualified person or if it can be carried out by the holder of the approval or licence.
These maintenance requirements apply to all meters from the metering roll-out date, and they apply now to any new or replacement meter installed on or after 1 April 2019.

Duly Qualified Persons
Have been deemed by the Minister to meet minimum requirements for qualifications, skills and experiences to work independently to install, maintain and validate metering sites in NSW. Duly qualified persons, such as certified meter installers and certified practising hydrographers, play a key role in the metering rules.
Duly qualified persons must provide water users with the relevant certificate for work performed within seven (7) days of carrying out the work.
Inactive or Decommissioned Works
Inactive works are not required to have a meter. This applies to both surface and groundwater works.
Before a work will be tagged as inactive, the water user needs to demonstrate the work is not physically capable of taking water.
To register a work as inactive, WaterNSW customers should apply through WaterNSW and local government water authorities and other Department customers should apply through the Natural Resource Access Regulator.



.