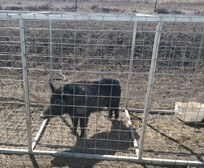 News |
Pig Management Project
The Gwydir Strategic Pest Management initiative that brings landholders and National Parks together in the management of feral pigs is well underway now. Despite the dry conditions there are still significant feral pig numbers out there, and they are still breeding, so we all need to remain vigilant in our control of these feral pests.
Monitoring cameras have been set up and a number of pigs have been fitted with ear tags and GPS collars. In the next few months we will be collecting data to get a better idea of the population density and their movements. Water, shelter and food are the three key drivers which influence how far pigs move and where they move to.
Critical to managing feral pigs is to use all control mechanisms. The LLS have a Winter Feral Pig Control Program running until the end of August, producers who are working with their neighbours trapping or baiting are encouraged to contract the LLS on 1300 795 299 to source grain for trapping and baiting.

Read More