Gwydir receives 1.9% allocation
The Gwydir Valley received it's first allocation since February 2018 with 1.9% allocation (or 10.56GL) issued to water users including the environment.  Inflows into Copeton Dam since February this year are greater than 60% of the total inflows into the dam over the last 2.5 years.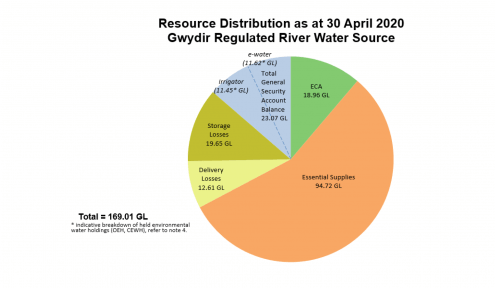 The allocation announcement together with a full reserve essential supplies reserve (for two years) in Copeton Dam and recent supplementary availability below the dam, signals for the first-time in years that the whole catchment has a good soil moisture and any rain should generate flows into our river systems.  Whilst the drought hasn't broken, it's a good start for water users and the region.       
The announcement was bittersweet, as DPIE-W also announced a 30% allocation to general security licences in the Lower Darling earlier in the month.  The allocation was made available due to inflows exceeding the critical requirements, which were the basis for the wide-spread temporary restrictions in the Northern Basin in January and February 2020.  The restrictions meant that the region missed two major supplementary events, where water from unregulated flows is equally shared with the environment.  Up to 10% allocation was foregone at the time by our industry and community and it is now not even contributing to critical needs but another regions allocation.    
Unfortunately, what happened in February cannot be undone and our region's opportunity to recover from the drought will be because of any future inflows, which is why the recent allocation announcement is so important, our first stepping-stone to recovery. 
But it's also important that the review into the Northern Basin First Flush Assessment looking into the management of the temporary restrictions must look into this oversight and ensure systems are in place to better forecast inflows and efficiently manage our river systems.
For more information on water available for irrigation, visit out page Current Water Availability.
For more information into the review into Northern Basin First Flush Assessment here.