Keytah System Comparison
Keytah System Comparison
For over four years now the Keytah System Comparison has been gathering comprehensive and insightful data to benefit the industry as a whole. Data collected over the following seasons, 2009-2010, 2011-2012, 2013-2014 and 2015-2016 has proven extremely valuable. The current 2017-2018 season continues the trial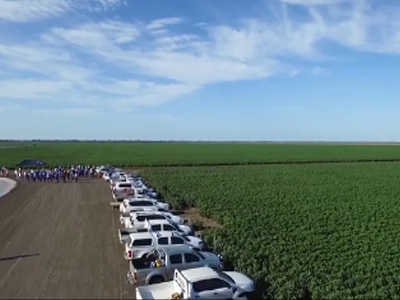 with the incorporation of automation techniques in the bankless channel and the siphon systems.
This is a unique project run by growers with the specific intention to collect relevant commercial data. This data is designed to provide cotton growers greater insight into the four different systems under review; siphon, bankless channel, lateral move and subsurface drip.
During the project, the Gross Production Water Use Index (GPWUI) was calculated for each of the systems. The GPWUI is used to enable a comparison of the systems across years and across farms. It combines total seasonal water use (irrigation water and rainfall) with soil moisture and yield. The higher the GPWUI the more water efficient the crop.
The trial has found that there can be significant variation in the GPWUI between years. This suggests that the efficiency of the systems can be significantly impacted by other variables, particularly climatic conditions. Each of the four seasons have be very different, from cool and w
et, to hot and dry, with one season where there was no irrigation or rainfall to finish the crop.
The four seasons of research have shown the lateral move to have the highest average yield and GPWUI. The furrow siphon has produced the most consistent yield, but had the lowest average GPWUI. The bankless channel had the second highest average yield and the drip the lowest average yield.
The siphon field had significantly higher labour requirements, but along with the bankless channel it had very low operating energy costs. In contrast both the pressurised systems, the lateral and drip, had high operating energy costs. These two systems also had high capital setup costs.
When compared on an operational and maintenance basis, the bankless channel had the lowest total operating costs and the lowest operating, maintenance and ownership costs. This, coupled with favourable yield and GPWUI results, makes it a strong contender in many situations. Bankless channel however, may not be practical in some regions due to the earth works required to develop fields.
The following links will take you to the brochure and the video which provide more detail on the project.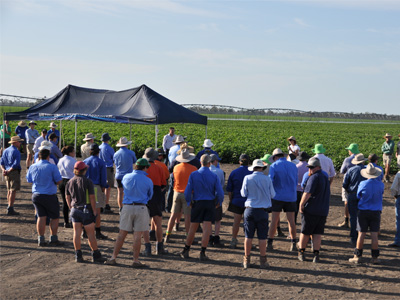 The project has shown that although important, water alone is not the only driver growers must consider when making decisions on irrigation systems. The reliability and the potential yield achievable under each of the systems are key considerations for growers. They must also look at the consistency of performance, capital investment needed and the resources of labour and energy when looking at changing irrigation systems.
The trial has been well received by growers and industry since its inception, with data continually enhancing grower's capacity, knowledge and understanding of the efficiencies of alternative irrigation systems.
Many growers have altered their irrigation systems following a visit to Keytah, or from discussions with people involved in the project, which is an extremely pleasing adoption rate.