New water prices exposes metering design flaws
The Independent Pricing and Regulatory Tribunal (IPART) NSW handed down their new pricing structure for water charges in NSW to start from 1 October 2021 with the review adding salt into the wounds of irrigators slammed with high prices, that the metering reform policy established by the NSW Government in 2019, is not meeting its promised objectives.
"We've been watching the train-wreck that is the implementation and administration of the NSW metering policy and working on solutions, to iron out barriers to compliance[1]" said Mrs Lowien.
"Detail in the attachments of the IPART review has highlighted the policy is also failing to meet expected efficiency or cost savings too" she said.
"IPART has had to blend metering administration charges because it was going to be more expensive for customers to have telemetry option that automatically sends metering data into the Government's new custom-built system, rather than having staff visit metering sites to read a meter, up to four times a year as they do now" she said.
"This is despite during the consultation on metering rules, telemetry was encouraged by the Department on-top of the National Metering Standards, with promises by them it would be cheaper in the long run and good for water users" she said.
"IPART has blown this assumption out of the water" said Mrs Lowien.
"Having telemetry isn't cheaper and isn't providing any benefits to water users because the system isn't working properly as it isn't even integrated with any customer interface, the ordering system or river management" she said.
"IPART's analysis indicates that metering administration can only get cheaper for water users when more than 25% of extra customers voluntarily opt in with a maximum discount of $37 per site available when another 75% voluntarily take it up."
"Even with the government promised rebate, why would someone want to voluntarily add extra technology for more than $1000-$1500 to maybe save up to $37 down the track" said Mrs Lowien.
"We do not see voluntary update as an option for water users, there are no benefits given how the system has been set up and it's not even working properly".
"We also do not consider IPART's assumptions on the break-even point – where telemetry starts to be marginally cheaper – because the accuracy of the Government database and the assumptions regarding metering requirements has been questioned following the first round of metering deadlines" she said.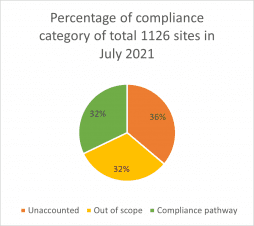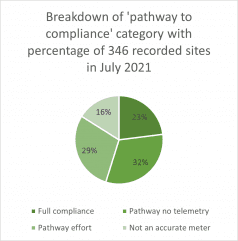 Chart 1 - Breakdown of all sites. Chart 2 - Breakdown of active sites.
"From compliance reporting by the Natural Resources Access Regulator (displayed above), we know there were 1126 sites[2] that needed to meet the first deadline (Chart 1), yet about a third of these sites were no longer considered in-scope, these are now unlikely to need telemetry. A further third of these sites, NRAR could not contact because the database is so out of date and the status remains unaccounted".
"NRAR determined the active status of 346 sites (Chart 2) and there are a 32% of these sites that are on a pathway to full compliance but have not connected telemetry, some of which cannot because the Government hasn't approved compatible devices.[3]"
"Clearly there are gaps in the administration, but IPART have ignored this in their assumptions. Even after accepting prices are sensitive to uptake and issues of data integrity being raised in submissions like our own" she said.
"At this stage, without an improved set of realistic assumptions and a greater suite of approved devices, we do not see the break-even point will ever be realised".
"That means, non-telemetry users will have to pay more for their usual service, effectively subsiding the reform."
"The targeted efficiency savings of the agencies are unlikely to materialise, which will continue to drive up water prices in later determinations" said Mrs Lowien.
"The Government telemetry system is a complete farce, it's not integrated properly within Government systems, water users cannot connect or utilise the data easily and now, IPART have also exposed there's no financial savings or benefits either" she said.
"It's time Government realises their assumptions are not holding water, the reforms is failing as a result and its costing water users everywhere" she said.
[1] Document in the comprehensive barriers to compliance document by NSWIC https://www.nswic.org.au/wordpress/wp-content/uploads/2021/09/2021-09-01-NSWIC-Report-on-Barriers-to-Metering-Compliance-FINAL-.pdf
[2] April 2021 media statement https://www.dpie.nsw.gov.au/nrar/news/nrar-assessing-compliance-with-new-metering-regulations
[3] NRAR in July 2021 reported 76 sites out of 346 reported were on a pathway to compliance but have not yet connected telemetry via https://www.dpie.nsw.gov.au/nrar/how-to-comply/metering/compliance-state-of-play/_nocache
Ends
Media Contact : Zara Lowien
0427521399
For background reports from IPART see:
https://www.ipart.nsw.gov.au/sites/default/files/cm9_documents/Final-report-Review-of-prices-for-the-Water-Administration-Ministerial-Corporation-September-2021.PDF
https://www.ipart.nsw.gov.au/sites/default/files/cm9_documents/Consultant-supplementary-report-by-Cardno-Review-of-WAMC-expenditure-September-2021.PDF
https://www.ipart.nsw.gov.au/sites/default/files/cm9_documents/Consultant-supplementary-report-by-Cardno-WaterNSWS-non-urban-metering-reform-charges-WAMC-September-2021.PDF