Metering progress - Stage 1
The Natural Resources Access Regulator have prepared the following 'Metering Compliance Rates' page to assist with the monitoring of progress as of 13 July 2021.
To be very clear, these percentages refer to number of sites that NRAR have been able to visit or have contact with water users and who are active. These percentages are not based on previous communication by NRAR on total sites or entities.
The Gwydir is consistent with the state-wide average, although we have a slightly less number of sites fully compliant (10 or 16%) and more on a pathway (22 or 37%), than the state wide averages.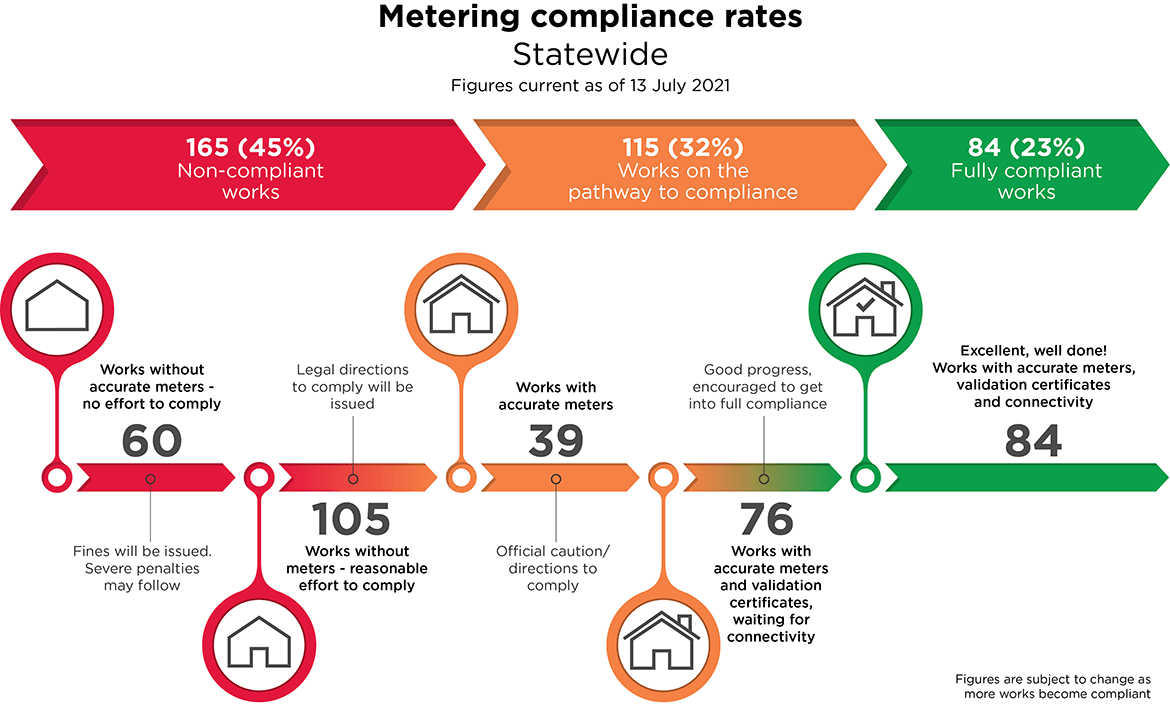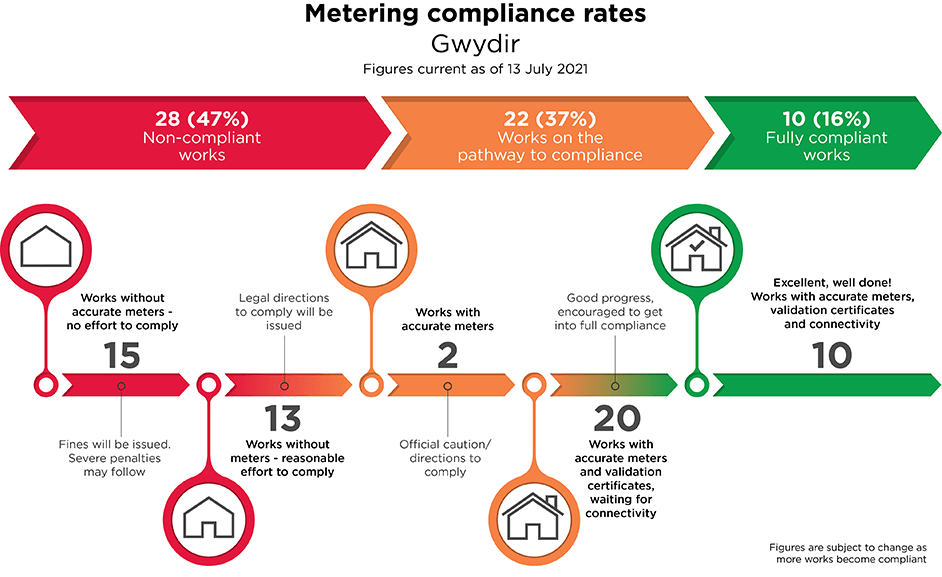 It is unclear however, why NRAR elected to include a total of 105 sites across the state with 13 of these in the Gwydir in the non-compliant works, when these sites also had reasonable effort to comply. This would mean a total of another 29% of users across the state and 22% in the Gwydir are actually on a pathway to compliance but NRAR is not representing that.
It is also unclear, why these numbers refer only to sites active or visited. For example, Stage 1 roll-out date has a total of 1,126 sites that required compliant metering by 1 December 2020 and these percentages refer to only 356 sites. NRAR reported 356 sites were reported out of scope or inactive during the compliance campaign which means the status of 406 sites is still unknown.
Looking at all the sites, the compliance statistics tell a much different story.


NRAR Compliance Campaign (346)
Total Site Statistics
(1,126)
Fully Compliant
23%
7%
On a pathway (NRAR middle Group)
32%
10%
On a pathway also
29%
45%
9%
No effort
16%
5%
Out of scope
Not reported
32%
Unknown - missing from statistics
Not reported
36%
Barriers to compliance
There are range of market, administrative and technical barriers to compliance which have been well communicated and documented throughout the implementation program. These can be summarised below.
Telemetry - there is a large proportion of users who have compliant meter but cannot connect telemetry due to limited connectivity and lack of approved devices compatible to their meter.
Limited pattern approval for specific flow rates, meaning meters maybe approved in the diameter range but not to the flow rate of these sites meaning there is actually no approved meter for these installations.
Late approval for Australian made, custom diameter meter which was only approved in November 2020.
Delivery delays which were 8-12-weeks initially but not up to six-months in some cases if being custom built.
Design work for replacement meters, these are large-scale design projects that take time to implement.
Inactive or non-developed works. These works do not use water but have not been required until the metering reform to be marked as such and some require DQP sign-off and are not a priority task.
A survey of local service providers and members by the GVIA, could not find active irrigation works that had not made effort to comply.