Federal election policy comparisons
The Federal election campaign draws to a close this Saturday, 18th May with polling day yet, 2.6 million people have already voted via pre-polling.
To lend a line from John Howard when asked whether a candidate was fit for Parliament, he said "It is a matter not for you or me... The Australian people will decide whether somebody is fit to be in parliament".
With that in mind, it is important you ensure your vote is counted and to be aware of your requirements and to consider, exercising the full preferential vote for the Senate by voting below the line for the candidates that will best serve your interests as a regional resident, regardless of which party forms government on Saturday.
With social media turning out to be an issue for the parties and many candidates, resulting in the largest number of dis-endorsements or resignations of candidates during this campaign. Its important you also check if a candidate remains within a party or is running as an Independent as the ballot has been decided and printed.
Voting in House of Representatives is gearing up to be a seat by seat election, with swings and changes right around the county.  In NSW there has been a big push within the country electorates to move away from major parties and seek independents.  You must place a number against every candidate in the House of Representatives ballot, starting from your first preference as 1.  A list of candidates is provided on the ABC Australia Votes website for Parkes and New England.
Voting in the Senate requires a full re-election, which is 12 seats for each state and two for each territory.  Our analysis highlighted that of the 102 candidates for NSW, possibly only six live in regional seats, whilst some have rural connections.  These six regional candidates that are either the top or second candidate for their group/party include: Perin Davey (Nats), Sam Farraway (Nats), Peter Mailer (Democrats), Brian Burston (United Australia Party), Brett Cook (Shooters Fishers and Farmers), Kate McCulloch (One Nation).  A full list of candidates is provided on the ABC Australia Votes website.
Its important to note that the voting for the Senate has changed, preference are set by the individual and not the party or the group.
To vote above the line – you must provide your preferences, starting at 1 to 6 (or more) partie/groups. 
To vote below the line (recommended) – you must provide preferences, starting at 1 to 12 candidates (or more).
Party/group votes above the line will be tallied, and votes shared between those on the party ballot, filling the number 1 spot first and so on. 
Any first preferences from voting below the line will be provided directly to that candidate which is added to any votes they received in the party/group distribution. 
A minimum vote of around 400,000 is required based on the senate quota formula and 5,298,606 enrolments for NSW.  This is less than last election because this is a full election, previous quotas were larger, as fewer positions were being elected.
If your first preference candidate isn't elected, your vote is distributed to your number two vote or remaining preferences, depending on if your subsequent preferences is already elected or has not received enough votes.
Check our the AEC fact sheet.

Policy Analysis
The National Farmers Federation have provided a policy comparison tracker for the Liberal, Labor and Greens policies by theme.  This is a great tool when comparing positions on a range of agricultural and regional issues, highlighting significant differences and gaps and is available here.
In addition to this, NSWIC asked for responses from each of the major parties on their positions to key initiatives and the response from the Liberal/National Party is provided here.  No other party provided any responses, although the Labor Party did release its water reform policy here.
Smartvote Australia also runs a 'matching program' and database of candidates based on a 35 question survey, which also maps the candidates' policy/position in terms of six areas; Economic Liberalism, Law and Order, Inclusivity, Environmental Protection and Welfare State. Unfortunately not all candidates have participated but it is another tool to help understand a party or persons policies and is available here..
For a quick summary on the Murray Darling Basin Plan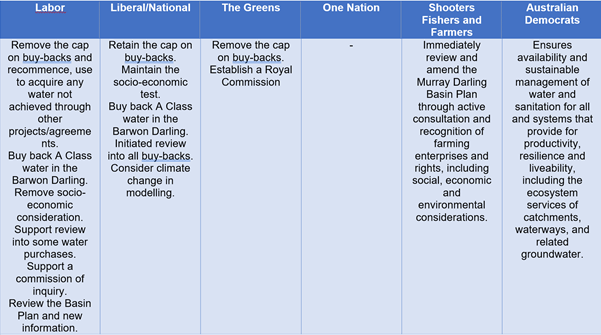 For a quick summary on Metering and Measurement

For a quick summary on Land Stewardship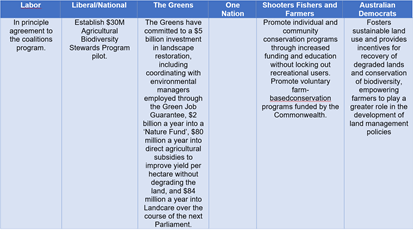 For a quick summary on other Water and Land matters