Copeton Fills and Spills
The Gwydir Valley is currently experiencing a once in a decade event with Copeton Dam filling and spilling, along with most rivers and streams flowing naturally.
Zara Lowien, Executive Officer of Gwydir Valley Irrigators Association who represents water users in the valley said whilst it is rare to see Copeton Dam this full and spilling, this signifies the region is at the start of the boom, of our historical boom and bust cycle here in the Gwydir Valley.
"Copeton Dam filling and our rivers constantly flowing, as they have for nearly a year now, is exactly what happens here when it finally does rain" she said.
"These conditions are a far cry from those a few years ago, when environmental water and high security deliveries were the only sources of water keeping parts of our rivers flowing, while others just didn't flow at all" she said.
The most recent resource allocation on 7 December 2021, confirmed the return to better conditions saying: "Copeton Dam is 99% full – falling – holding about 1,346 gigalitres (GL). This time last year, the storage was about 15% full"[1].
The announcement also provided a 118% allocation to general security the highest since 2012 for water holders and environmental contingency accounts. These full allocations are despite more than 144,000 megalitres being released under spill operations to ensure the dam remained below 100%.
Mrs Lowien said whilst crop losses are widespread because of the unfortunate timing of rain and flooding. Unlike a drought, we know there's another crop around the corner and we can allow ourselves to have a little bit of optimism in the community.
"Everyone; dryland and irrigation farmers, and our local businesses should see the opportunities beyond this crop. We have excellent soil moisture and excellent water availability for more crops to come." she said.
"History would demonstrate, with Copeton now full, we have a boom time for our region for the next few years" she said.
The last time Copeton reached near this level was 2012 and it has only been as high previously in 1998, 1984 and 1976.

For video of Copeton Dam spilling see our Facebook Page @GwydirValley.

Figure 1: Resource Distribution Gwydir Valley, 30 November 2021.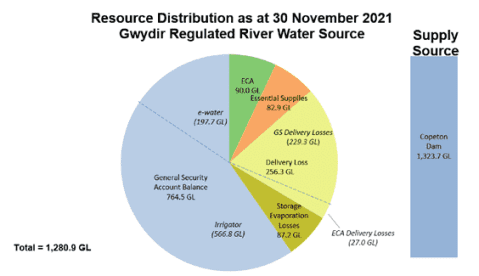 [1] https://www.industry.nsw.gov.au/__data/assets/pdf_file/0004/486688/WAS-Gwydir-20211207.pdf
For more information on Current Water Availability on our webpage.